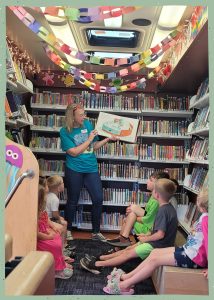 Williams County is where families grow, prosper – and have a ton of fun! With countless family friendly activities, events galore and an abundance of destinations to explore, there's really no excuse for boredom! Our schools are top notch, our communities and neighborhoods are safe, and we have everything you and your kiddos need to help create those cherished childhood memories.  
Families who love the outdoors will appreciate the beautiful landscape's scenery, rivers, lakes, and all the activities that they provide such as hiking, fishing, kayaking, golfing, camping and so much more. History buffs can check out the museums and historical sites while road tripping around the region.  
But what about those chilly months? We have tons of indoor opportunities to get moving and stay warm all winter long. Catch the latest movie at the theater or ride some waves at the Williston Area Recreation Center.
Build your community connections by attending local events like concerts, theater productions, rodeos and street fairs just to name a few! New mom in town? Check out Olive Motherhood Foundation for fun events and friendly connections. There's so much for the whole family to experience in Williams County, just stop by and we'll show you!
Image: Storytime on the Williams County Bookmobile with Ms. Tori, cr: Williston Community Library


Community Centers and Rec Councils
Get your fill of sports, fitness, and more all in one place! The Tioga Community Center is home to a golf simulator, the Tioga Community Library, events, a skating rink and more. Check out the Williston Area Recreation Center for a giant indoor waterpark and lap pool, take a run around the track, or sign up for one of its many sports leagues. Did we mention it hosts family-friendly events such as Toddler Black Light parties, too?
In our area, Recreation Councils or Parks and Recreation Districts are where you'll find things like sports leagues, summer camps, and swimming lessons.

Libraries
Williams County is home to two libraries, the Tioga Community Library and the Williston Community Library, as well as the Williams County Bookmobile, which travels the whole county each week bringing and books straight to the kids in our communities. Each library hosts programs and events for all ages!

Youth Involvement
Looking for service and skill-oriented organizations? Williams County is home to several 4-H clubs, Boy Scout units, and Girl Scout troops. Our 4-Hers participate in shows and events as part of the Upper Missouri Valley Fair each year and our scouts are always out and about with their service projects.