About
2020 Population: 115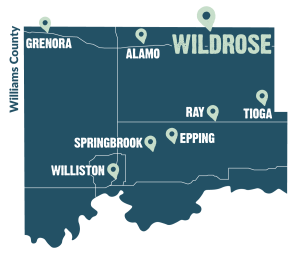 Wildrose is a friendly farming and ranching community located on the northern border of Williams County, right along Highway 17.
This sweet-as-a-rose community is home to a golf course, city park, tennis court, and a bar/café, the Wildrose Small Town Bar and Grill. Wildrose is where you can have small town fun whenever you'd like. Running low (you or your car)? You can filler' up with gas or grab a pop or snack at the Horizon Resources station. Getting around town, and the county, is a breeze with Wildrose Public Transportation. If you enjoy the small-town charm of friendly people and a pleasant atmosphere, Wildrose is the place to grow!
Did you know? Wildrose was named after the abundance of wild roses that were in bloom the summer of 1909 when the Great Northern Railroad station was constructed.