About
2020 Population: 29,160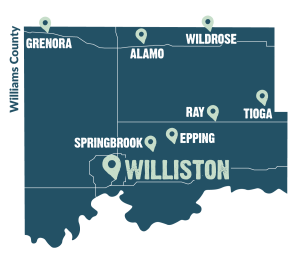 Located where the Little Muddy and Missouri Rivers meet, Williston is a bustling community that continues to grow and thrive. The population of Williston doubled between 2010 and 2020 to become the sixth largest city in North Dakota. Although the population burst is typically attributed to the oil industry, which brought thousands of workers to the area,  a decade later, it's the city's charm, amenities and possibilities that keeps people and their families here! Read all about it in Williston's editions of Liveability magazine. Want a personalized tour? Reach out to the Williston Area Chamber of Commerce to set one up!
You don't need to look far to find opportunities in both lifestyle and business. Looking to bring your business with you? Williston Economic Development has all the tools to help you get started - or to pick up where you left off. Check out our Jobs and Careers page for more resources for starting a business.
Explore the beauty of local and state parks and enjoy new hotels, restaurants, shopping as well as the state's largest indoor aquatics and recreation center. Be sure to stop by the Williston Visitor's Center for local gifts and guides. World-class fishing is located less than 30 minutes away on the great Lake Sakakawea. Wander on over to Williston, you might just wind-up getting hooked!
Did you know? Williston has been home to the annual Band Day Parade for more than 90 years! The parade features bands from all over the state and happens each May.