About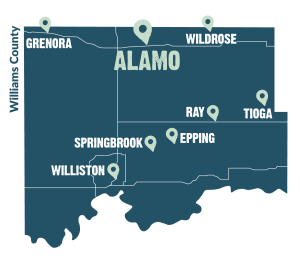 2020 Population: 53
Nested in a shallow valley east of Cottonwood Lake, Alamo's panoramic views boast the most beautiful sunsets you'll ever see! Alamo is where you'll find a big-hearted rural community with deep roots in the farming industry.  
 Founded in 1902, Alamo remains a peaceful, family-friendly town with rural values. On the edge of the prairie pothole region, the surrounding area is a waterfowl hunter's paradise. Looking for some weekend fun? Take a quick drive over to Blacktail Dam for some fishing and boating, camping or golf! While you're at it, swing by Fast Lane 29 on the way for a meal and a drink.
Did you know? The city was originally named "Cottonwood" but was renamed to "Alamo" which is the Spanish word for Poplar - another word for a Cottonwood Tree!