About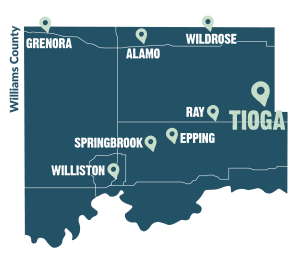 2020 Population: 2,202
Ever wonder where the oil boom in North Dakota started? Look no further. Way back in the spring of 1951, the Clarence Iverson farm in Tioga became home to North Dakota's first oil discovery. The Amerada Petroleum Company had been trying for months, when they finally struck black gold in the wee early morning hours of April 4, 1951. The discovery forever changed Tioga and the state of North Dakota. Following the discovery, millions of acres of land became leased and families packed up their campers and moved into town by the hundreds. Tioga has sustained this growth over time and continues to thrive today. Visit with their Economic Development Office to learn more about business opportunities.
Tucked along the eastern border of Williams County, just a stone's throw north of Highway 2, Tioga has everything you'll need and more, including an impressive community center with a variety of amenities for the whole family to enjoy. So get some strokes in at the Tioga Country Club or head over to the Tioga Peaceful Valley Campground for fun in the sun. Once you explore the amenities and conveniences of Tioga, you'll consider calling it home!
Did you know? 2023 will be the opening season of our recently renovated baseball field. Play Ball!