About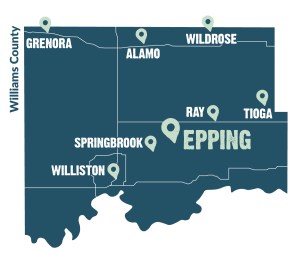 2020 Population: 84
Located directly between Ray and Williston, Epping is in the center of everything! One of many local communities with railroad origins, Epping was first settled in the early 1900s and has remained a small and safe community ever since.
Brush up on your history at the Buffalo Trails Museum before grabbing a burger and a beer at the Eagles Nest across the street. Interested in recreation? Head a few miles west to the Epping/Springbrook Dam for boating, camping, fishing, and more! Epping is also home to the Upper Missouri Ministries summer camp, one of the few outdoor overnight summer camps located in northwestern North Dakota!
Did you know? Each summer, the Buffalo Trails Museum hosts Buffalo Trails Day to celebrate the history of Epping!