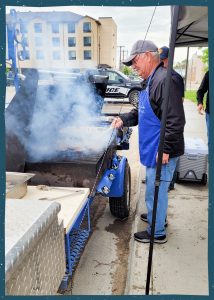 To truly make Williams County feel like home, you'll need to get to know some people. Being the newbie isn't always easy. Luckily there are lots of organizations to get involved in. Williams County is where nine out of 10 residents say they stay here because of the people and sense of community. The tenth person is an introvert – but he's happy here, too!  
Below are several different types of organizations to check out. We're sure we've missed a few, so if you don't see something you'd expect to be on the list, reach out to us!
Image: member of the Korner Lions grilling up lunch for law enforcement.