About
2020 Population: 37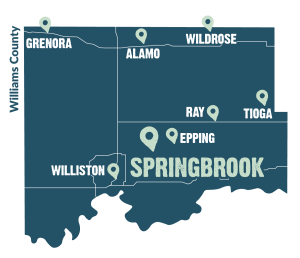 The city of Springbrook is just a short 14-mile commute from Williston. This small agricultural community is located in the center of outdoor opportunities, near the Epping/Springbrook Dam, Upper Missouri Ministries youth camp and just a hop, skip and a jump from many Missouri River resorts, campgrounds and Lewis and Clark State Park.
Along with fishing and boating, Springbrook is where you'll find excellent hunting opportunities, and is located near one of the top golf courses in the state, The Links of North Dakota, and one of Williams County's best beaches, Little Egypt
Did you know? The current townsite of Springbrook is its third documented location! It was originally located about a mile west.